About NBI
At NBI, we consider listening to be one of our most important jobs. We want to know what our clients' objectives are from the beginning. We respect everyone's time, and always endeavor to make the best use of it so we can achieve the stated goals. NBI is all about getting our clients the most bang for their buck, and will work to create an environment without frivolous spending recommendations.

Newport Business Interiors
PHONE : 949.852.9100
NBI was established in Newport Beach in 1982 by Jim Hegenwald, who is currently the dealer principal and project manager. We focus on the Southern California area, but have installations all over the country.
"The details are not the details. They make the design."
Charles Eames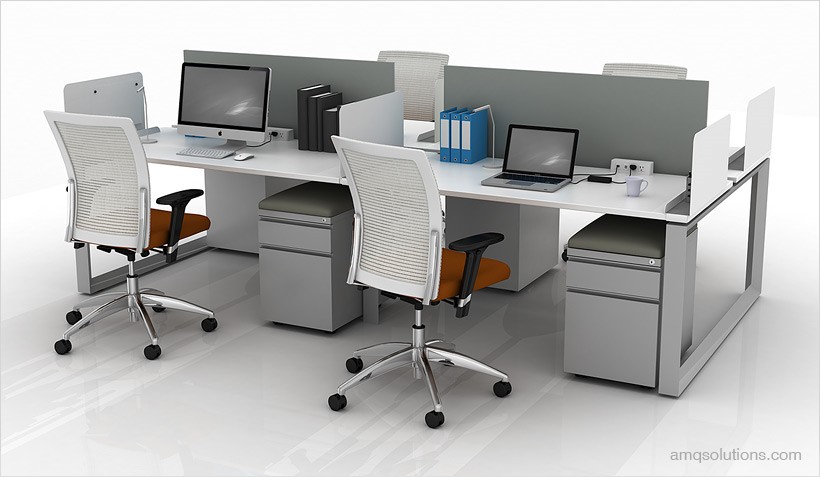 AMQ DOVE GREY COMMERCIAL WORKSPACE DESIGN
Worksurfaces that move up and down allow the user to be active during the day to avoid static body positioning at the workstation. Associates appreciate having the flexibility of movement at their station; allowing them to be productive and comfortable at the same time!
NBI worked closely with the Facilities Department over several months to design several options, utilizing various design elements and color schemes to reach a comfort level of forward-looking design. Current design trends were viewed also by upper management to see if any of them were applicable.  NBI was able to assist in exposing their client to ideas that had not traditionally been applied to banks.  The resulting design allowed a more collaborative environment within the administrative and management departments, with a more inclusive feel.
The Sit/Stand desks have proven to be extremely popular at the bank, and the flexibility they afford has increased productivity and workplace satisfaction.  A specific function and storage capability was required for the adjustable height desks, so NBI's design team went to work to come up with the ideal solution.  The bank's Facility Manager AVP is extremely creative, and his inspired solution was designed and fabricated with a mock-up model that could be viewed by all interested parties.  The design was eventually approved and has become the standard for the bank's adjustable height applications. 
With banks, each branch has its own personality and style, depending on its location and community function.  NBI was able to give each branch its own individual feel, yet still staying within the overall corporate structure.  Introducing color was one aspect that helped the updating process, and the right colors can brighten the mood of any office!
The other key factor in associates' comfort and productivity is the chair they sit in. We proposed several options in different price ranges, and brought out chair samples for them to use in their actual work environment.  Worker safety and comfort is always uppermost in our planning and implementation, and the elimination of any worker comp claims is our watchword.  Any chair we recommend must have a wide and sturdy enough base to avoid tipping; the main cause of claims.  Our client had had some experience with that in the past, and we eliminated that problem for them permanently.
This local facility has increased their population with our stations, and we have furnished over 40,000 square feet of office space in their 4 story building  .  We have also installed all the office, training, conference, lunchroom, and reception furniture.   We have installed sound masking throughout the facility to great success.  
With our local factory, we have complete control over the design and manufacture process.  Nothing is left to chance, and nothing is made outside of our purview.  Our installers actually make the product, and our clients like the fact that we can actually fly our crew out to install in areas outside of Southern California.  Being in business for over 36 years has allowed us to establish relationships with dozens of installation partners, and we have the entire country covered!
We stock locally the furniture they use so it is always readily available for them within days of ordering.  It is high-quality, super durable, and available in multiple finishes.  At a very competitive price-point, the ongoing work is well-within their budget.  We supply all types of furniture for them, and we have a flexible-back stacker  supplied to them for their large, multi-purpose meeting auditoriums.
 We regularly bring sample furniture out to them so they can use our products in a normal work setting over a period of time to ensure that comfort and expectations are satisfied.  We will also have meetings with the individual end-user to be sure that they understand the function and operation of the item
At NBI, we take pride in always being available to our clients.  Our goal is to get answers for our clientele as soon as possible, as we understand that everyone has deadlines to meet, and if we can respond quickly, then we are helping everyone along the chain to speed things up. 
Monday – Friday
8:00am – 5:00 pm.
Complete The Form & We Will
Contact You Quickly