About NBI
At NBI, we consider listening to be one of our most important jobs. We want to know what our clients' objectives are from the beginning. We respect everyone's time, and always endeavor to make the best use of it so we can achieve the stated goals. NBI is all about getting our clients the most bang for their buck, and will work to create an environment without frivolous spending recommendations.

Newport Business Interiors
PHONE : 949.852.9100
NBI was established in Newport Beach in 1982 by Jim Hegenwald, who is currently the dealer principal and project manager. We focus on the Southern California area, but have installations all over the country.
"The details are not the details. They make the design."
Charles Eames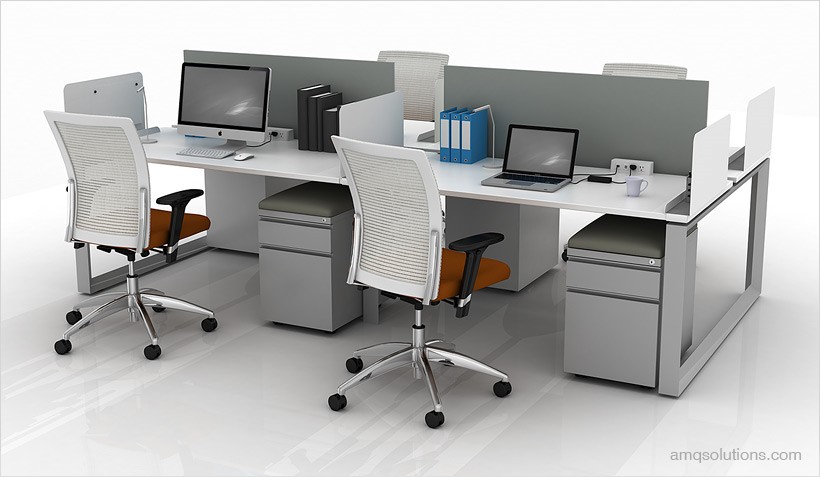 AMQ DOVE GREY COMMERCIAL WORKSPACE DESIGN
Worksurfaces that move up and down allow the user to be active during the day to avoid static body positioning at the workstation. Associates appreciate having the flexibility of movement at their station; allowing them to be productive and comfortable at the same time!
Concept + Design
Our design staff can help you conceptualize then develop an interior environment that achieves your design vision.
Integration Planning
We will plan your space by utilizing adjacency factors to determine department placement. Our goal is to accomplish a smooth and efficient work flow throughout your entire office. We can interview department heads and any other associates if their input is desired.
Fabrication
NBI has the ability to make custom pieces utilizing our local woodshop. We can fabricate high-end products such as granite conference tables and reception stations as well.
New + Reconditioned
Our product offering runs the gamut from New, to Reconditioned, to Used. All of our traditional office furniture such as desks, chairs and conference tables are new, but we offer Reconditioned and Used panel systems from our local factory.
Expert Installation
All of our Installation Techs have been factory- trained. Our panel system and open-office installations are uniquely effective and dependable because our installers have actually produced the furniture in our factory, and their intimate knowledge is therefore unparalleled in the industry. Our installations are flawless as a result; and if by chance anything is missing, we simply send a truck back to the factory to bring it back out. We can actually cut surfaces and panels in the field if a construction error has been made which makes us unique. There is never any waiting for replacement for damaged furniture from back East or China. An installation is never shut down to wait for product to arrive from out of state/country. NBI installations are something to look forward to, not dread!
Repair + Maintenance
NBI has a maintenance crew for any needed repairs or maintenance requirements.
Monday – Friday
8:00am – 5:00 pm.
Complete The Form & We Will
Contact You Quickly