Projects
For 36 years, NBI has furnished offices all over America. Our clientele ranges from large call center operations with hundreds of stations at each location, to clinic/education centers with hundreds of locations, to smaller offices with one or two associates, and everything in between! We treat every client large or small with the respect and attention they deserve, and we have had some clients for decades!

Two-Person Work Stations
Two- person workstations designed to allow natural light to shine through into the workspace to enhance associates' well-being and productivity.  Glass panel inserts create architectural interest and avoid monolithic divider stagnation.  Seated privacy is achieved; yet openness is felt.  Overhead storage is an option with taller panels along the inner partition.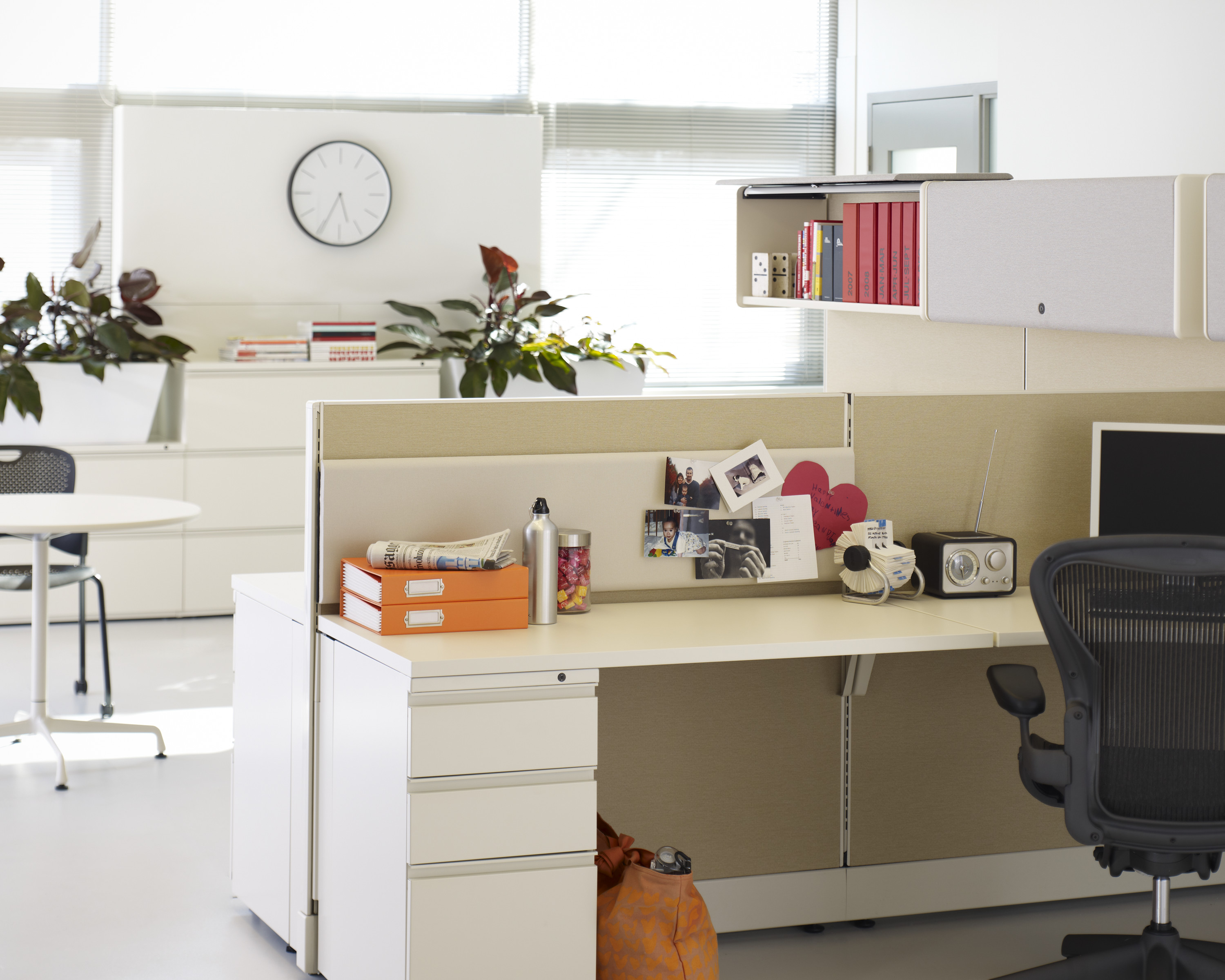 Collaborative Work Stations
Collaborative stations are designed to encourage and facilitate communication among contiguous users, yet give associates the feeling of having their own space using low worksurface dividers.  Storage options such as mobile pedestals, lateral files and overhead storage can be utilized using different panel heights.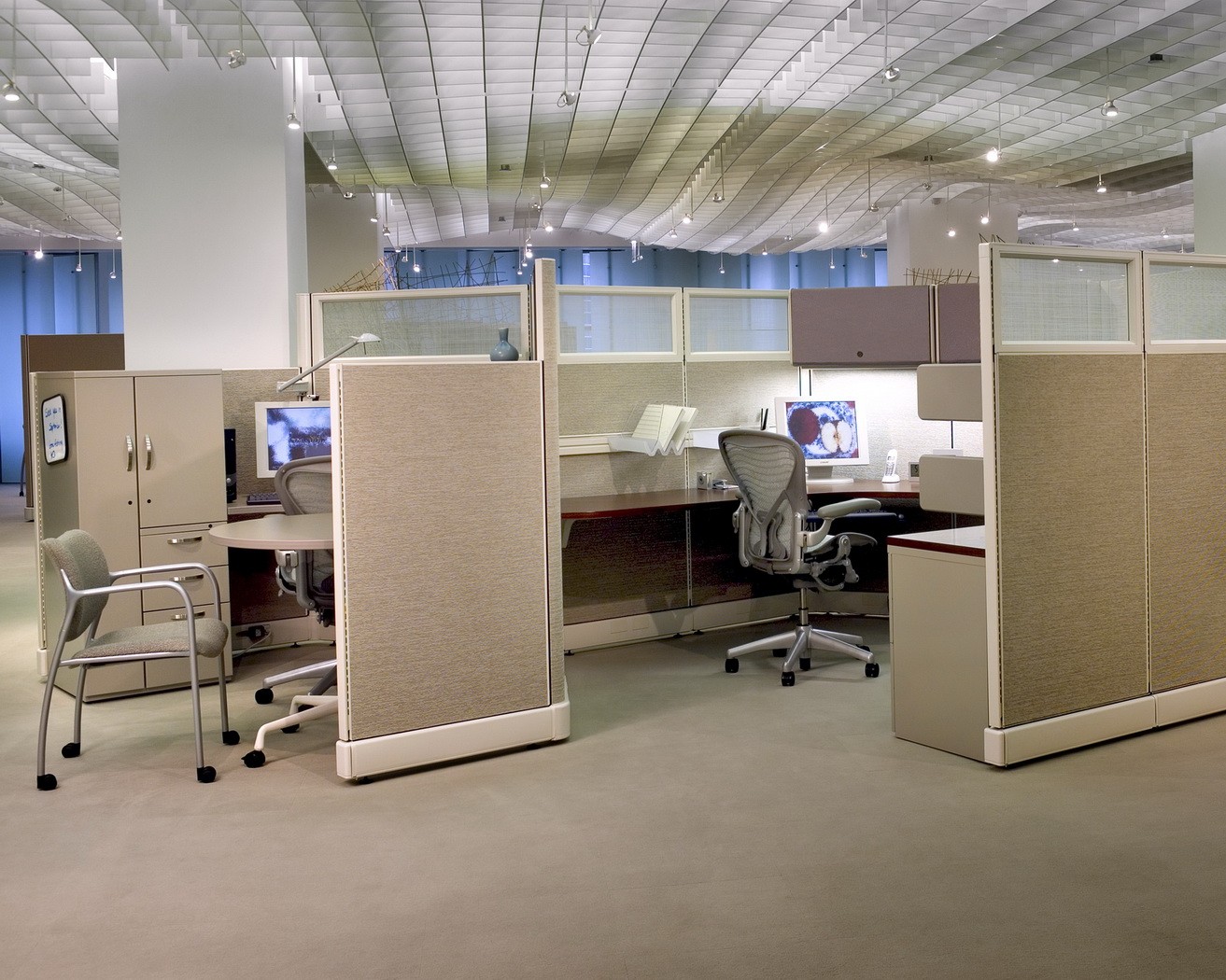 Larger Work Stations
If space allows, larger stations with multiple panel heights and colors/finishes bring an inviting and warm feel to the office environment and comfort to the associates.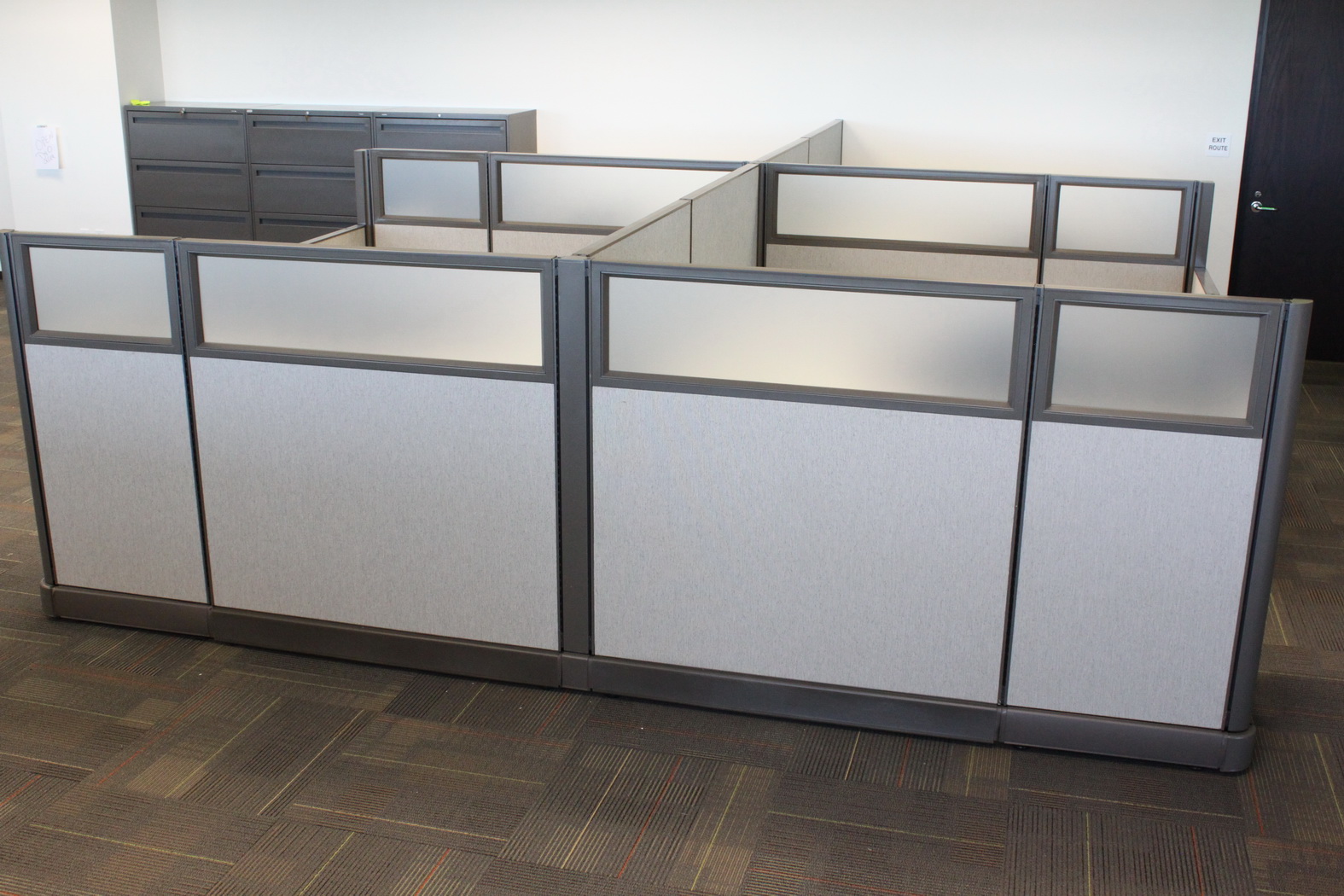 High Density Spaces
For the department requiring high-density associate use, benching stations offer a clean but user-friendly solution.  For the open office, privacy pods offer an enclosed space when confidentiality is needed.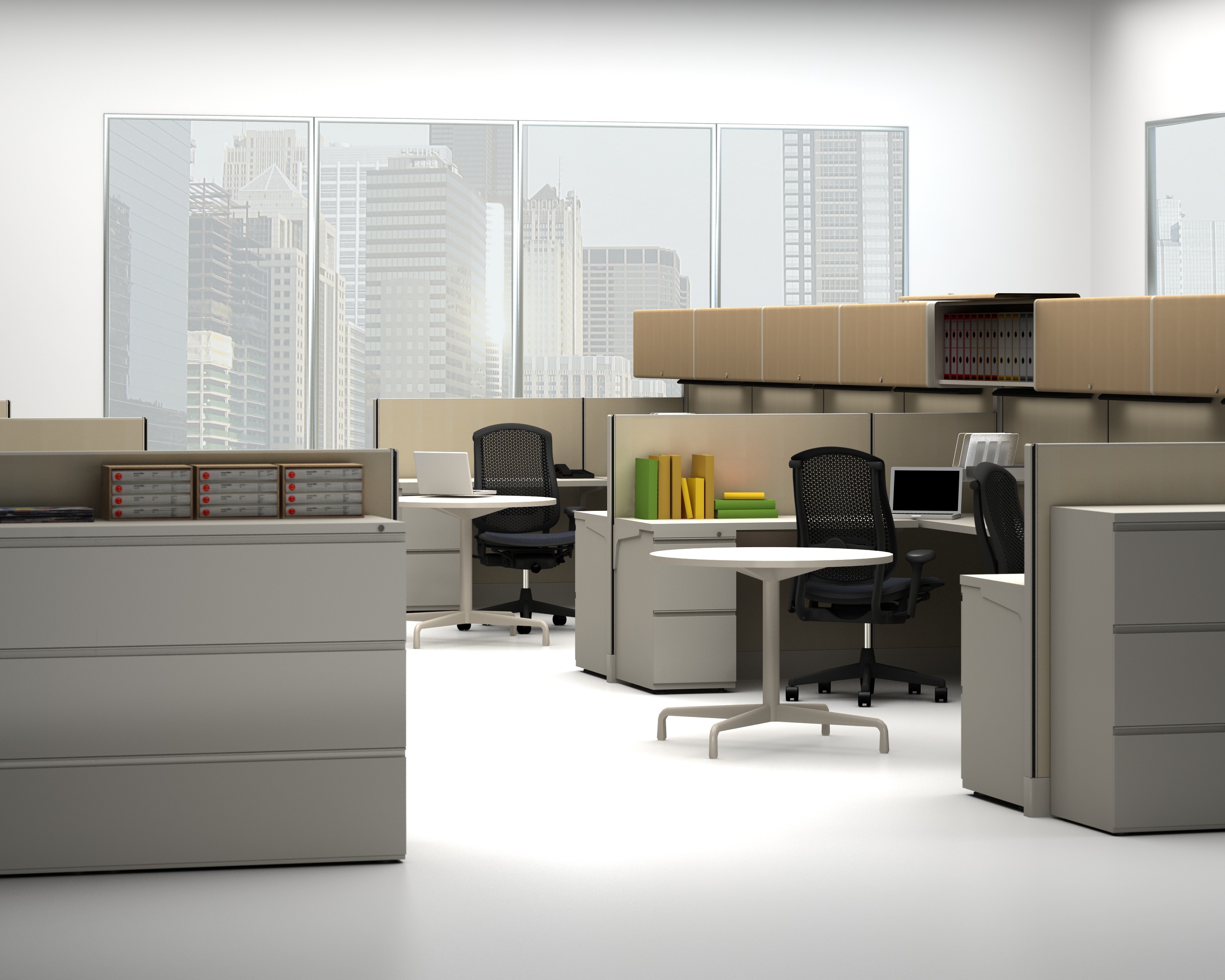 Custom Fabrication
At our Factory Showroom in Santa Ana, we have a custom division where we can design anything our clients can imagine.  One of our popular designs is the dog-leg station.  It allows maximum privacy with low walls, and breaks up the space using angled stations.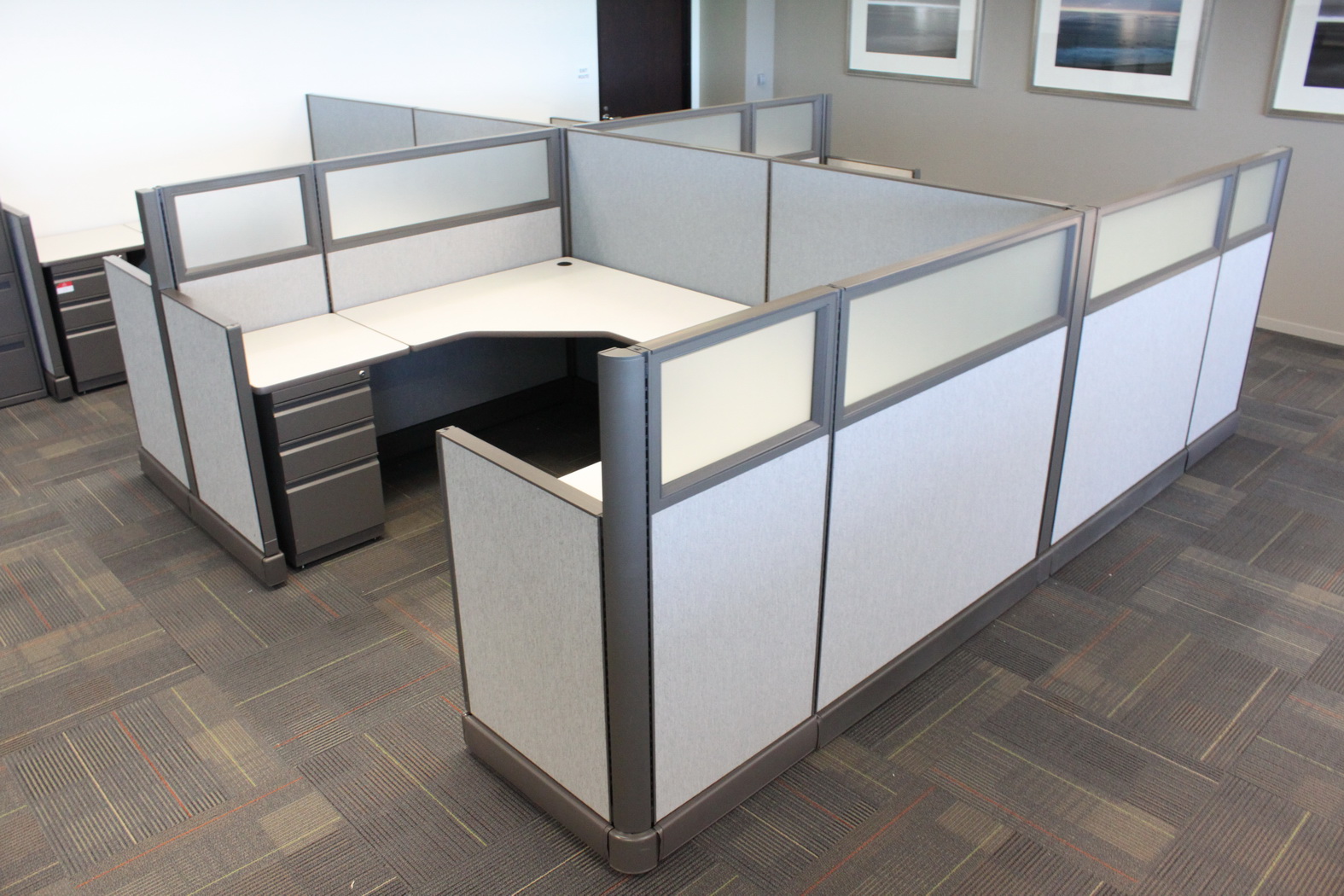 Traditional Work Stations
More traditional stations are very popular still.  These stations maximize storage capabilities and privacy, with high walls for overhead storage and stacked shelving.  Users that need a lot of workspace thrive in this design.




Sales Associates Stations
Stations for the Sales Associate are somewhat larger and offer a lot of storage and shelving for brochures and sales literature.  Overhead storage and shelving are plentiful for books and binders, and can be designed to be visually appealing.  Minimal worksurface usually works well in these spaces.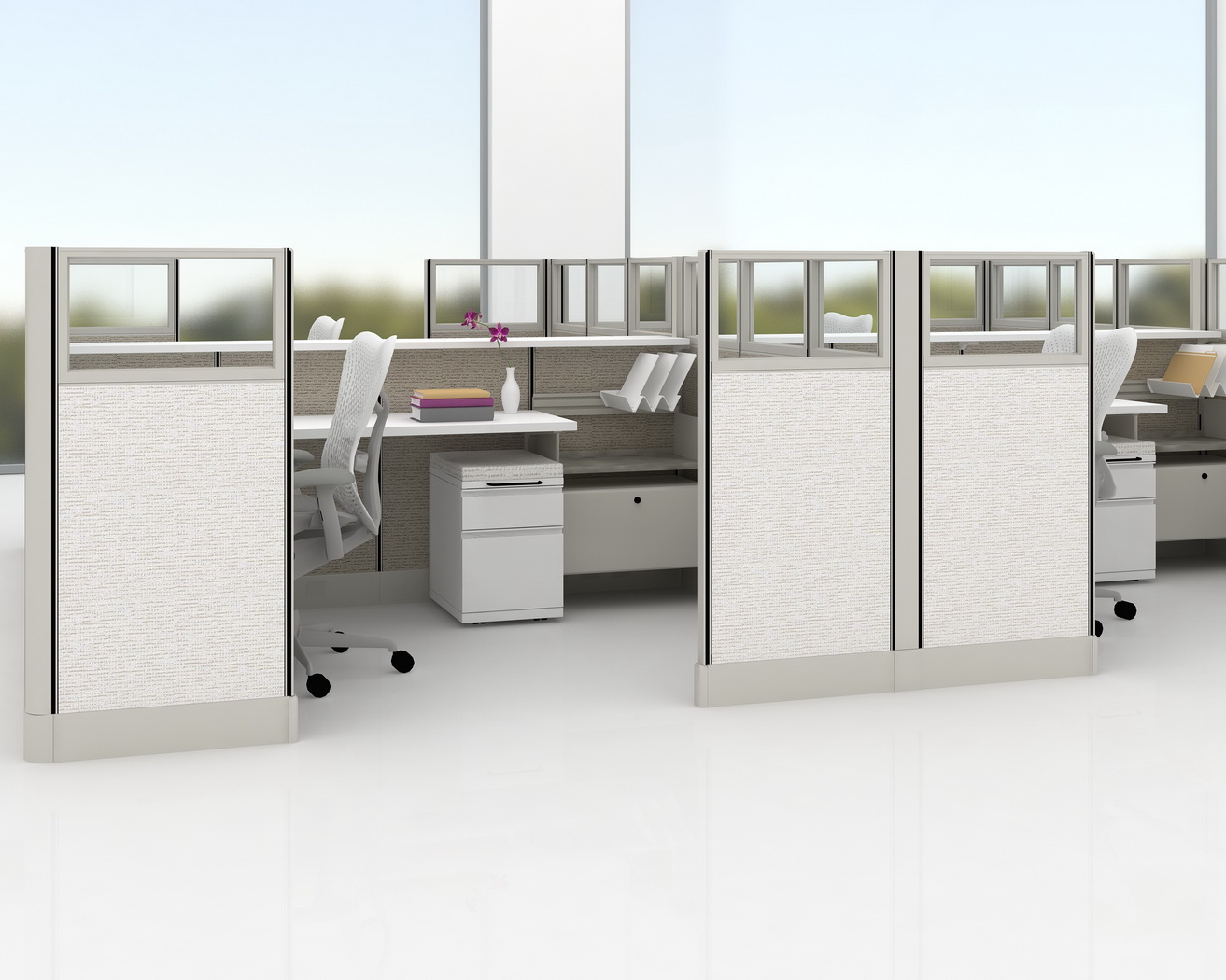 Benching Stations
Benching stations for the open office have minimal paneling and storage.  A lot of users can be placed using a smaller footprint and maximizing the cubic foot rental. These stations can also be used for hoteling and breakout areas, and still have all the cabling run through the baseline raceway.



NBI worked closely with the Facilities Department over several months to design several options, utilizing various design elements and color schemes to reach a comfort level of forward-looking design. Current design trends were viewed also by upper management to see if any of them were applicable.  NBI was able to assist in exposing their client to ideas that had not traditionally been applied to banks.  The resulting design allowed a more collaborative environment within the administrative and management departments, with a more inclusive feel.
The Sit/Stand desks have proven to be extremely popular at the bank, and the flexibility they afford has increased productivity and workplace satisfaction.  A specific function and storage capability was required for the adjustable height desks, so NBI's design team went to work to come up with the ideal solution.  The bank's Facility Manager AVP is extremely creative, and his inspired solution was designed and fabricated with a mock-up model that could be viewed by all interested parties.  The design was eventually approved and has become the standard for the bank's adjustable height applications. 
With banks, each branch has its own personality and style, depending on its location and community function.  NBI was able to give each branch its own individual feel, yet still staying within the overall corporate structure.  Introducing color was one aspect that helped the updating process, and the right colors can brighten the mood of any office!
The other key factor in associates' comfort and productivity is the chair they sit in. We proposed several options in different price ranges, and brought out chair samples for them to use in their actual work environment.  Worker safety and comfort is always uppermost in our planning and implementation, and the elimination of any worker comp claims is our watchword.  Any chair we recommend must have a wide and sturdy enough base to avoid tipping; the main cause of claims.  Our client had had some experience with that in the past, and we eliminated that problem for them permanently.
This local facility has increased their population with our stations, and we have furnished over 40,000 square feet of office space in their 4 story building  .  We have also installed all the office, training, conference, lunchroom, and reception furniture.   We have installed sound masking throughout the facility to great success.  
With our local factory, we have complete control over the design and manufacture process.  Nothing is left to chance, and nothing is made outside of our purview.  Our installers actually make the product, and our clients like the fact that we can actually fly our crew out to install in areas outside of Southern California.  Being in business for over 36 years has allowed us to establish relationships with dozens of installation partners, and we have the entire country covered!
We stock locally the furniture they use so it is always readily available for them within days of ordering.  It is high-quality, super durable, and available in multiple finishes.  At a very competitive price-point, the ongoing work is well-within their budget.  We supply all types of furniture for them, and we have a flexible-back stacker  supplied to them for their large, multi-purpose meeting auditoriums.
 We regularly bring sample furniture out to them so they can use our products in a normal work setting over a period of time to ensure that comfort and expectations are satisfied.  We will also have meetings with the individual end-user to be sure that they understand the function and operation of the item
At NBI, we take pride in always being available to our clients.  Our goal is to get answers for our clientele as soon as possible, as we understand that everyone has deadlines to meet, and if we can respond quickly, then we are helping everyone along the chain to speed things up. 
Monday – Friday
8:00am – 5:00 pm.
Complete The Form & We Will
Contact You Quickly